EMS – AIRFLOW handy 3.0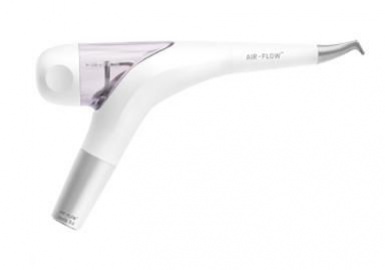 STATE OF THE ART DESIGN AND ERGONOMICS
AIRFLOW handy 3.0 is EMS's latest portable air-polishing unit. It has been developed to offer dental professionals unequalled working comfort.
This is particularly reflected in the new, elegant design. EMS has worked closely with a team ofergonomics experts to optimize the handpiece and powder chamber. The slimmer shape of the handpiece makes it easier to grip and rotate, at the same time as protecting the wrist. The new position of the powder chamber ensures an unrestricted view of the patient's mouth. In addition, the powder chamber can be easily opened and cleanly and rapidly filled with the elegant "Easy Fill" accessory.
The new AIRFLOW handy 3.0 is ideal for extensive daily use.
THE NEW GENERATION OF SUPRAGINGIVAL AIR-POLISHING
The handy 3.0 powder chamber is specially designed for large-grain powders and therefore optimized for use with EMS' supragingival powders CLASSIC, CLASSIC COMFORT and SOFT.
AIRFLOW handy 3.0 is therefore the perfect every-day partner when it comes to supragingival biofilm and stain removal, as well as polishing.